We make any type of life jackets custom made
Company Profile
Galvanisers India has been in existence since 1974 as an offshoot of The Marker Group of Companies (established in 1934) and serves as the manufacturing arm of the Group's marine safety and rescue equipment business. The group companies, today, employ nearly 50 motivated and dedicated personnel, many of whom have been with us for over 20 years.
The company is one of the oldest and largest manufacturers in India of SOLAS-grade life rafts, life jackets and ancillary products and holds ISO 9001:2008 quality certification.

We have our sales and administrative offices in Mumbai and our modern, well-equipped, state-of-the-art manufacturing facility is located at Pune (about 175 Kms from Mumbai). It is here that our products are designed and manufactured by our craftsmen with a watchful eye to finish and quality.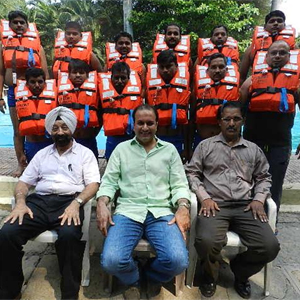 Its products are well-received, approved and certified by The Mercantile Marine Department (MMD) of India and, in recent times, by The Indian Register of Shipping (IRS).

For over three decades now, Galvanisers India has evolved and matured into a highly-respected and well-known manufacturer of very high quality marine Life Saving Appliance (LSA) items; such as: life rafts, life jackets, life vests, life jacket lights and such. All of our products are specifically designed to conform to stringent, international SOLAS standards.

It is with immeasurable pride that we state that we hold the record for the highest number (1,61,000 nos.) of life jackets every supplied in a single order [supplied to The Govt. of Tamil Nadu state for use by their fishermen in light of the tsunami disaster a few years ago]. Also, the fact that, a great number (50+) of life rafts supplied to The Indian Navy's latest air-craft carrier ("Vikramaditya") were manufactured by us.

Our products are regularly sold and well-received for the past several decades by the entire marine and offshore industry in India – which includes the commercial sector (organizations like: The Shipping Corporation of India, The Great Eastern Shipping Co. , etc.) as well as the Government and Public Sector (The Indian Navy, various shipyards of The Govt. of India – such as, The Mazagaon Dock Ltd., The Garden Reach Shipyards, The Oil & Natural Gas Commission of India [ONGC], The Indian Coast Guard and several other departments and agencies of The Government of India, such as: Departments of Fisheries, Disaster Control, Inland Waterways, etc.

We would now like to serve you and be your choice of "the go to company" for all your marine life saving, rescue and safety items needs – we invite and solicit your patronage and assure you of our very best services and highest quality products at all times. Please know that the safety of your crew and personnel is of paramount importance to us - do consider us for your next requirements and give us an opportunity to serve and please you.

In conclusion, we wish to state that we have set for ourselves a simple but powerful mandate: To have our products be the very best possible in their industry performance and quality-wise; and, to offer these high-quality products manufactured by us to our customers at a fair price.